Tina Ritchie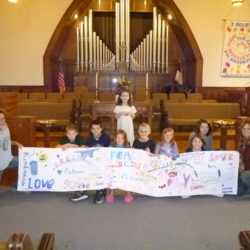 JAM "Jesus And Me" is a character education Sunday school program during 11a.m. worship for children preschool – 5th grade that explores living in the Fruit of the Spirit from Galatians 5:22-23: "But the fruit of the Spirit is love, joy, peace, patience, kindness, goodness, faithfulness, gentleness, and self-control. Against such things there is no law."
We kicked off the school year with a lock-in where we created a banner. Other activities included discussion on what love looks and feels like, experiencing joy and peace through music, practicing patience during preparation for the Christmas Pageant, making affirmation posters of our friends, creating a Kindness Newsletter, and having a food drive to show God's goodness.
Below are a few pictures from our classes.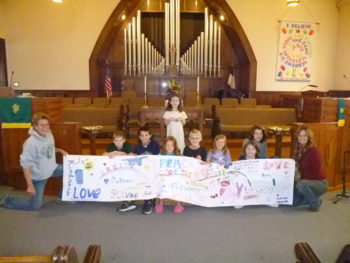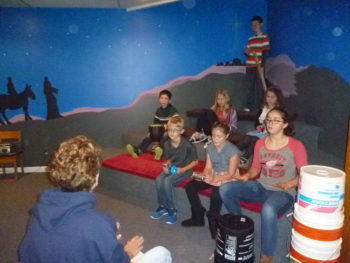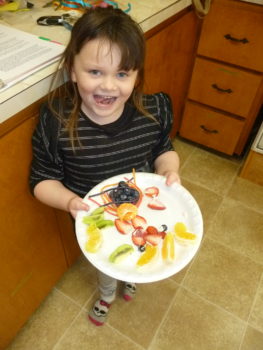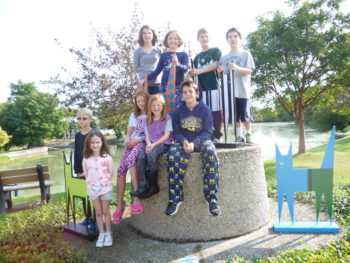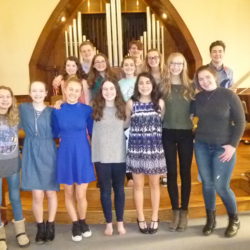 Great job to everyone on a meaningful Youth Sunday! 18 middle and high school youth wrote and/or participated in this year's Youth Sunday worship service on February 25. High school senior, Kara Kinser, delivered a sincere and relevant sermon on being "Renewed in the Spirit." The service included dressing the communion table at the start of worship, a modern dance interpretation of the scripture passage of Ephesians 4:17-5:8 to put off the old self and be clothed in the new self, a call to the cross to turn over our burdens during morning prayers, and concluded by singing Amazing Grace a cappella. The faith and talent of our young people are precious gifts to the life of our church, community, and world, and we are blessed to be led by them.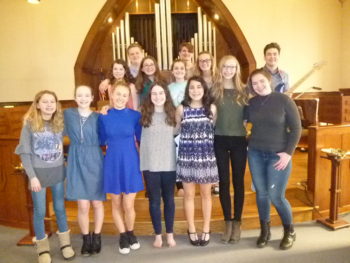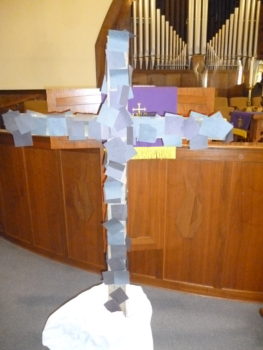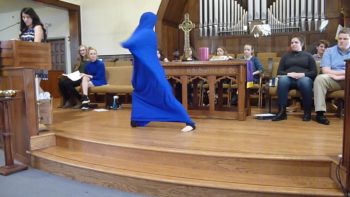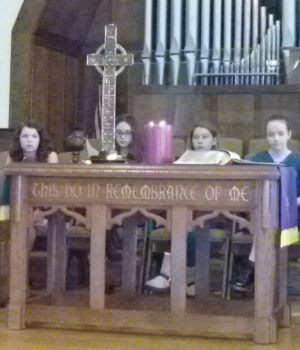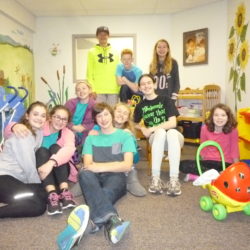 13 youth participated in various service projects on Saturday, November 18. We had hoped to help clear brush at a congregant's home, but the weather did not cooperate. Instead, we cleaned classrooms at church! Below are the projects we accomplished:
Youth served alongside adults at the Food Bank of Eastern Michigan, sorting vegetables, dairy products including eggs, and breads and sweets. The 3 boys did a fantastic job of bringing out pallets of food, removing them after being sorted, wrapping, weighing and marking each pallet, and then returning the pallet to the storage area. The girls and adults sorted and re-boxed all the items. With all hands on deck, we finished early and had a lot of fun!
Youth cleaned and organized all toys in the nursery and preschool rooms. This included dunking smaller toys in bleach water, wiping down all bigger toys and furniture, cleaning out all storage bins, and cleaning the floor mat under the loft unit in the preschool room. They also began sorting craft items in the art room.
Youth packaged 107 bags of feminine products for the Faith & Femininity mission. Each bag consisted of 14 tampons, 14 pads, 7 pantyliners, symptoms of toxic shock, and a scripture verse. We have placed another order for feminine products with the $450 still on hand, and will be having another packing night sometime in December. The bags are being delivered to Carriage Town Ministries.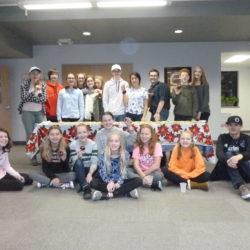 Our annual Triple C night (cookies, cards & crafts) for our Deacon's care receivers is a favorite tradition. We had a wonderful time on December 3 decorating 12 dozen cookies, making pine cone reindeer ornaments, and signing cards. Way to go youth! A big THANK YOU to Jenny Gibb and Tyler Bard for assisting!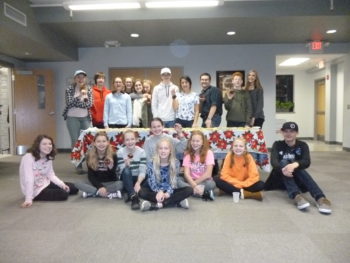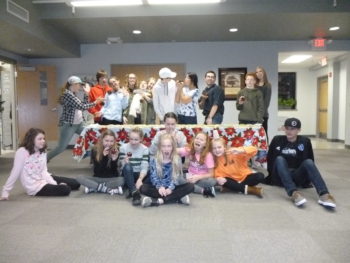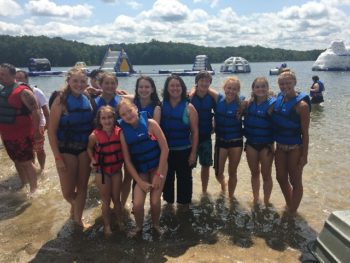 8 youth and 3 adults had a great time camping at McGinnis Lake in Holly. We enjoyed beautiful weather, thoughtful discussions, great food, and lots of swimming. We even got to play for 3 hours on Jump Island! Thank you to Jenny Gibb and Jennifer MacLean for chaperoning and to Greg MacLean for manning the fire on Saturday for our hobo dinners. This was a wonderful way to end the summer and to prepare for fall youth group. The picture is the group getting ready to head out to Jump Island.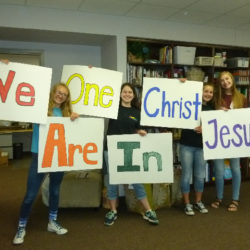 Five young ladies from youth group were assisted by Pastor Robbie, Tina Ritchie, Bobby Clark and Jenny Gibb in leading worship on Sunday, August 6. The theme was "All Together Now" from the Massanetta Middle School Conference based on Galatians 3:28-29. To open worship, they dressed the communion table, then invited everyone into worship by singing a cappella "Spirit, Fall On Us."  Youth in middle school shared what they learned at the Massanetta Conference and youth in high school shared experiences and lessons from the Feet-to-Faith mission trip in Ohio. With a depth beyond their ages, they talked about what it means to be together and yet not the same, loving everyone as Christ loves us.
After worship the girls also went shopping to purchase clothes for our Deacon's Back-to-School project. They shopped for five children with money donated by church members. This is the second year members of youth group have had the opportunity to shop for this project, learning how to be good stewards of money while purchasing fashionable and quality items for children in the Fenton area.
Below are pictures of 4 of the girls who participated showing the posters used in worship (the backsides say "Jew, Greek, slave, free, male, female), and the girls after our shopping trip to Target.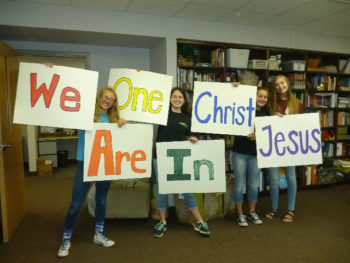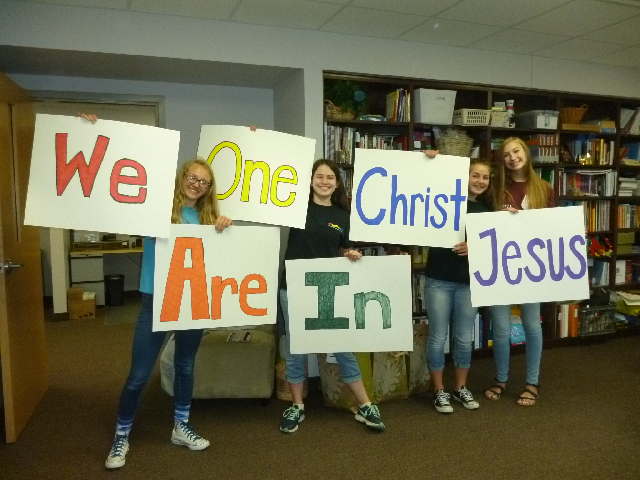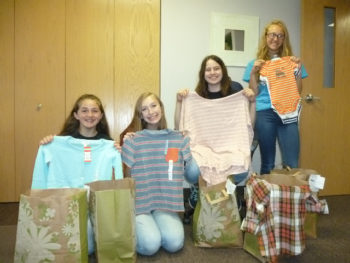 During holiday weekends or special services, class time for children after the Children's Message in worship will be as follows:
May 28 – Memorial weekend: All children will be dismissed to video rm.
June 4 – Pentecost:  Preschool only in video room
July 2 – 4th of July weekend: All children will be dismissed to video rm.
Aug 6 – Youth summer recap: Preschool only in video room
Sept 3 – Labor Day weekend: All children will be dismissed to video rm.
All other Sunday's, children will have regular class time.
The Bible rotation runs April 30 – May 21. The children will learn how the Bible came to be, understand its structure, and practice using it. It is important we learn how to use the Bible in order to understand what it has to say to us. Psalm 119:105 says "Your Word is a lamp to guide me and a light for my path."
Memory verse: 2 Timothy 3:15 "Ever since you were a child, you have known the Holy Scriptures, which are able to give you wisdom."
Don't forget to ask your children what they are learning in Carpenter's Corner.  It's a great way to talk together about our faith!
Eight of our high school youth and 3 adults, along with 1 youth and 1 adult from Krikridge Presbyterian Church in Grand Blanc, were in our group that participated in this year's Alma Youth Mix. The theme was "The Startling Love of God" based on the Prodigal Son and Doubting Thomas. The keynote speaker, Rev. Amanda Drury from  Indiana Wesleyan University, challenged us to look at the details in these stories to see how much God loves us and does not abandon us. Are we willing to embrace this love? What do we need to let go of to see God in our lives?
During the adult discussions, Amanda shared that the number one factor of faith formation in children and youth is their parents. If parents cannot articulate their faith, then children will have difficulty too. We were reminded that it's important to talk about and practice what we believe in order to solidify our beliefs, AND we need to do this at home as well as church.
Along with great small group discussions, keynote, and games, we met new friends and enjoyed old ones. A big shout out to Tabatha Dolan and Olivia Kirkey (former members of our youth group) for their assistance in planning and facilitating this event! We look forward to next year!!!