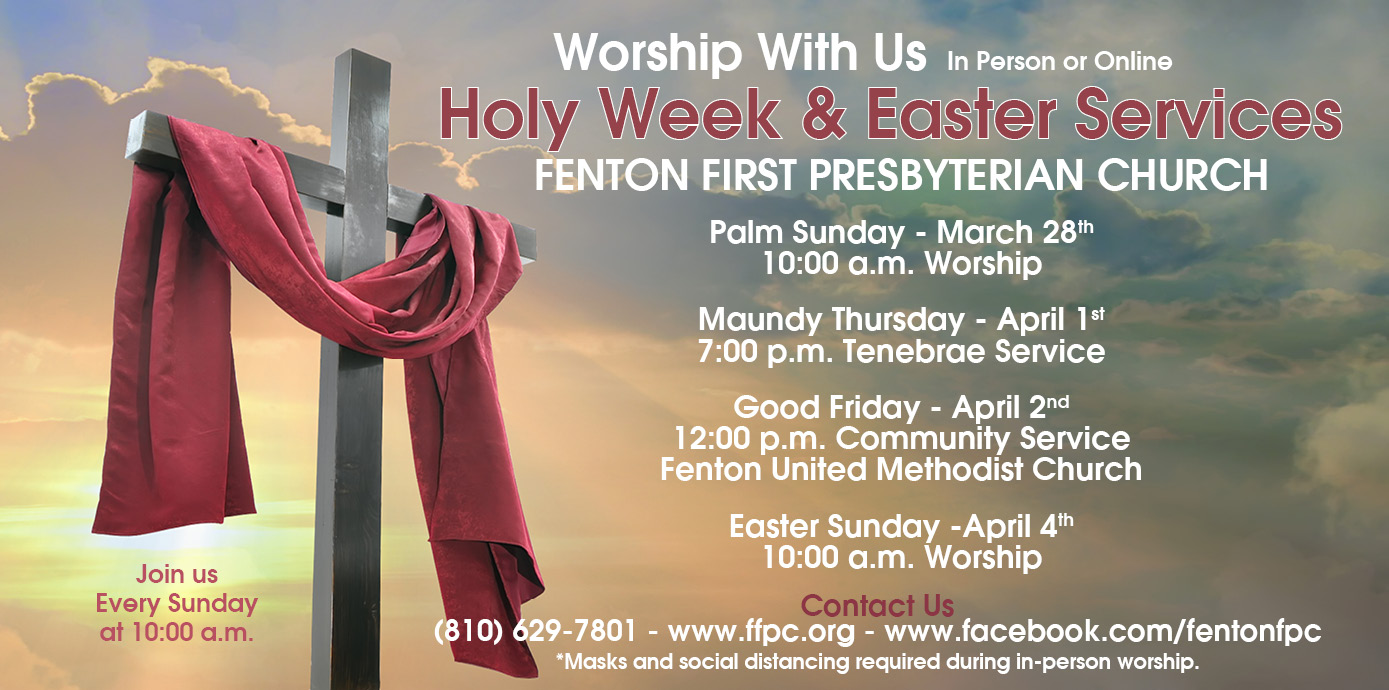 Worship at First Presbyterian Church
Worshiping God and the amazing love shown to us through Jesus Christ is essential in building and maintaining our faith. The worship service emphasizes hearing God's word in scripture and sermon as well as through music and prayer.
Special Worship Announcement
Several months ago, the Session of FFPC chose a statistical benchmark to help make the decision of when to return to in-person worship services. It was decided that if Genesee County had less than 10 daily cases out of 100,000 residents for two weeks (as reported on www.covidactnow.org) we would open the sanctuary for in-person worship. As of today, we have met that benchmark.
We will be meeting at 10am. Masks will be required in order to create a confident atmosphere for everyone. Distanced seating will be provided. If you have been exposed to COVID or feel ill, please be considerate and stay home.
If this isn't the right time for you to be gathering with other people, please remember that we will continue to have the worship services streamed online via Zoom, Facebook, and Youtube.
We hope that this is the beginning of a return to normal life and look forward to worshipping our Risen Lord with you in-person or online.
In Christ,
Pastor Robbie Carnes
Here is how to join us from home
1. Go to this browser:
https://us02web.zoom.us/j/8309142301?pwd=RHJ4dDBPdEhMN25yKzFzSzZNeUVPQT09
2. use the Zoom app and use this Meeting ID
Meeting ID: 830 914 2301
Meeting Password: 5013
3. Use your telephone line to listen in:
Call +19292056099 and dial 8309142301#  at the prompt US (New York)
Or
Call +13126266799 and dial 8309142301# at the prompt US (Chicago)
On Facebook at: https://www.facebook.com/fentonfpc
Please share this information!
Visit our Sermons Page for documents and video content.
Nursery
Nursery care is provided for children up to 2 years of age on Sunday mornings, birth through preschool during Wednesday evening programs, and upon request for other programs. Beginning faith formation is offered through simple prayer, song and Bible stories. At the age of three, children are transitioned into our preschool program with input from parents, and support from the Nursery Care Provider and Education Director.