Adult Education
Mission Statement:
"To provide vibrant adult study opportunities that inspire and encourage faithful daily living."
Study books are available for purchase though the church office or during class time.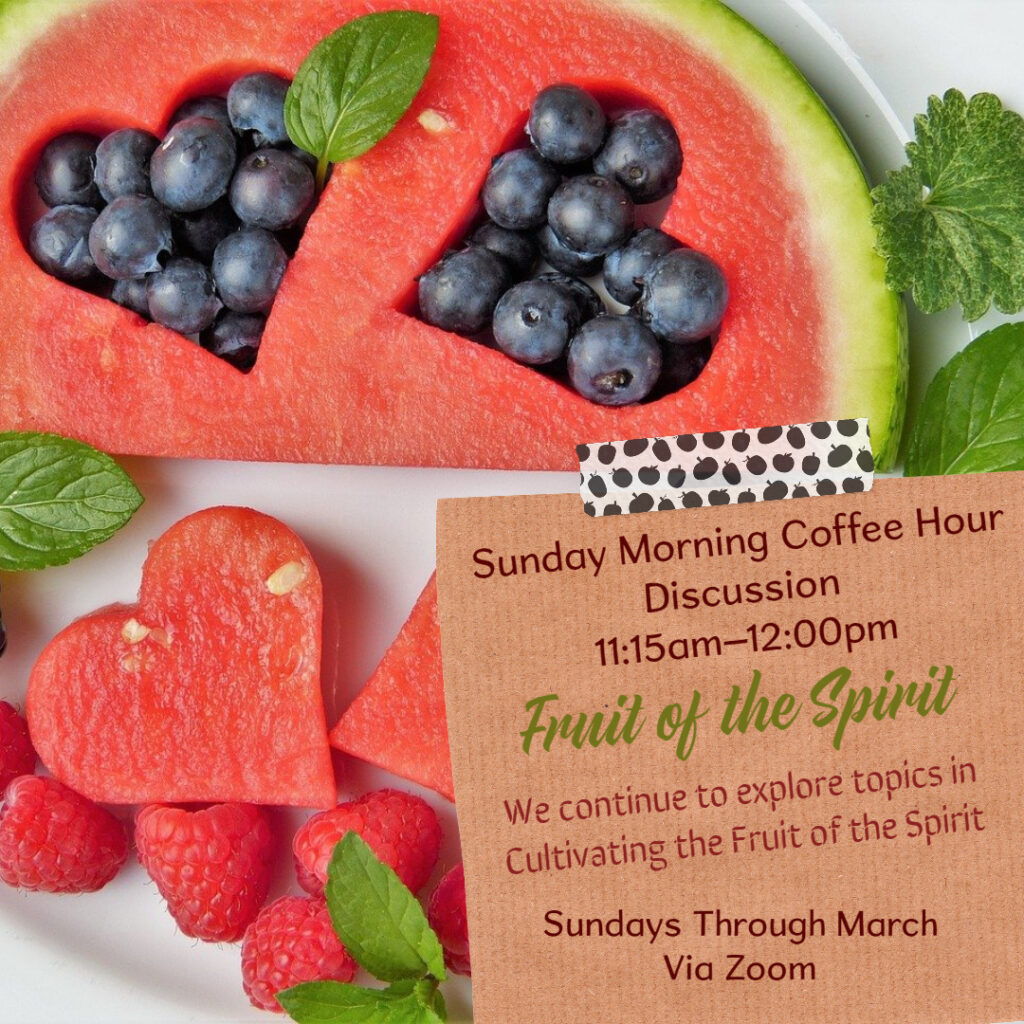 Sunday Morning Coffee Hour Bible Study
from 11:15 –noon
Sermon series discussions with Pastor Robbie following worship. We continue to explore topics in Cultivating the Fruit of the Spirit through March. *No class on communion Sundays (1st Sunday of each month).
Join via Zoom https://us02web.zoom.us/j/81586041549?pwd=dXdsSUR3cUdocGJCRDRR eEhPUnd3UT09
Meeting ID: 815 8604 1549
Passcode: 229105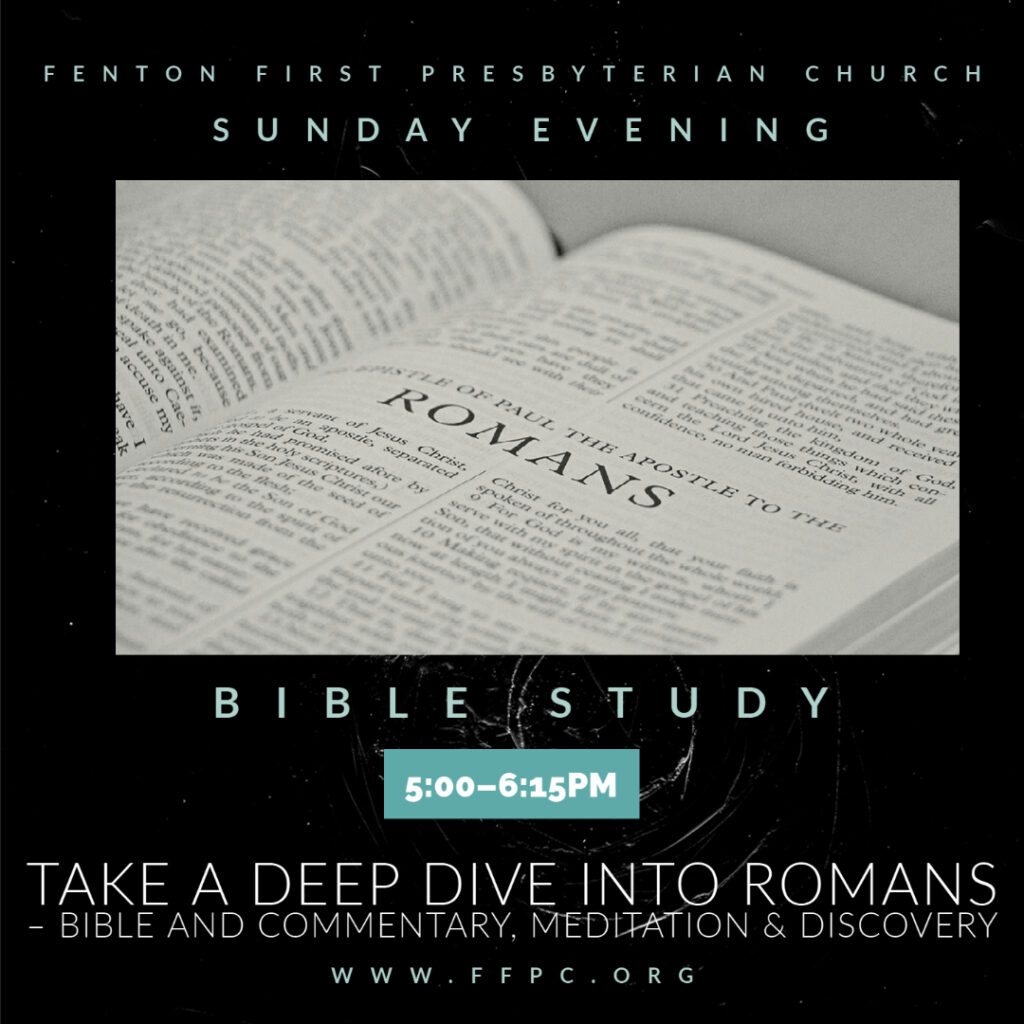 Sunday Evening Bible Study
We'll be taking the letter of Paul to the Romans apart.  Our objective is to find in Paul's message to people from whom we are very distant things that resonate in our own lives and help illuminate our walk with God.
Remember, as Paul composed his letters, he was writing to real people in real situations.  We're reading someone else's mail.  He never thought he was writing Canon (and some might say that he's rolling in his grave to see his writing become canon) of course, at the time the belief was that Yeshua was returning very soon and a "new testament" wasn't expected to be needed.
We're meeting live at 4square AND ALSO on Zoom if you don't want to come to the live session.
Join Zoom Meeting
https://us02web.zoom.us/j/82961241969?pwd=M0lPMmxYU001SnQ0Z3cwV3h5Z1phdz09
Dial by your location Find your local number: https://us02web.zoom.us/u/ksl9iAfbq
Meeting ID: 829 6124 1969
Passcode: 017303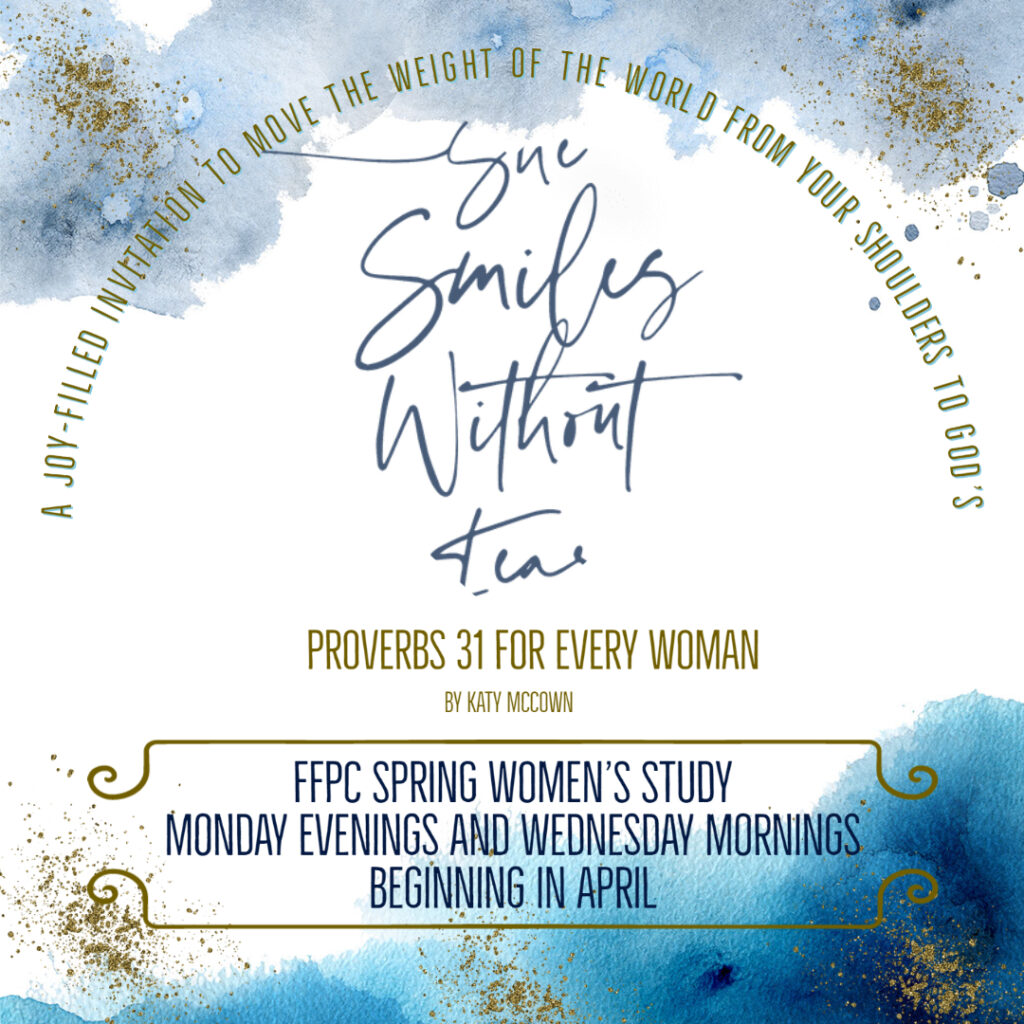 Spring Women's Study
She Smiles Without Fear: Proverbs 31 for Every Woman
A Joy-Filled Invitation to Move the Weight of the World from Your Shoulders to God's by Katy McCown
Monday Evenings, April 12 – May 17 from 6:30 – 8pm
or Wednesday Mornings, April 14 – May 17 from 10am – noon
Participant workbook $15
Register to tina@ffpc.org by March 21
Join via Zoom https://us02web.zoom.us/j/3159652381?pwd=WjZpVTVZWkV0WHRUbk1HNlZFWjJZQT09
Meeting ID: 315 965 2381
Passcode: 384661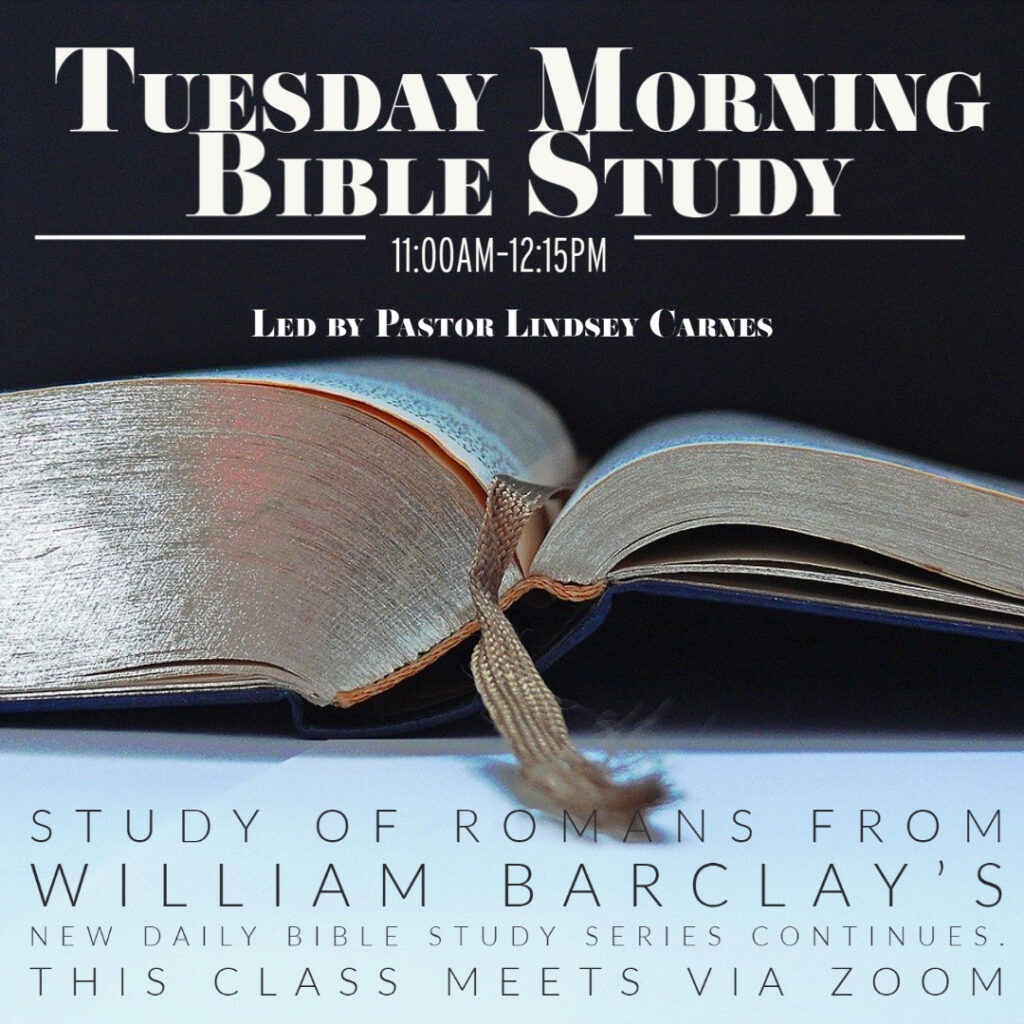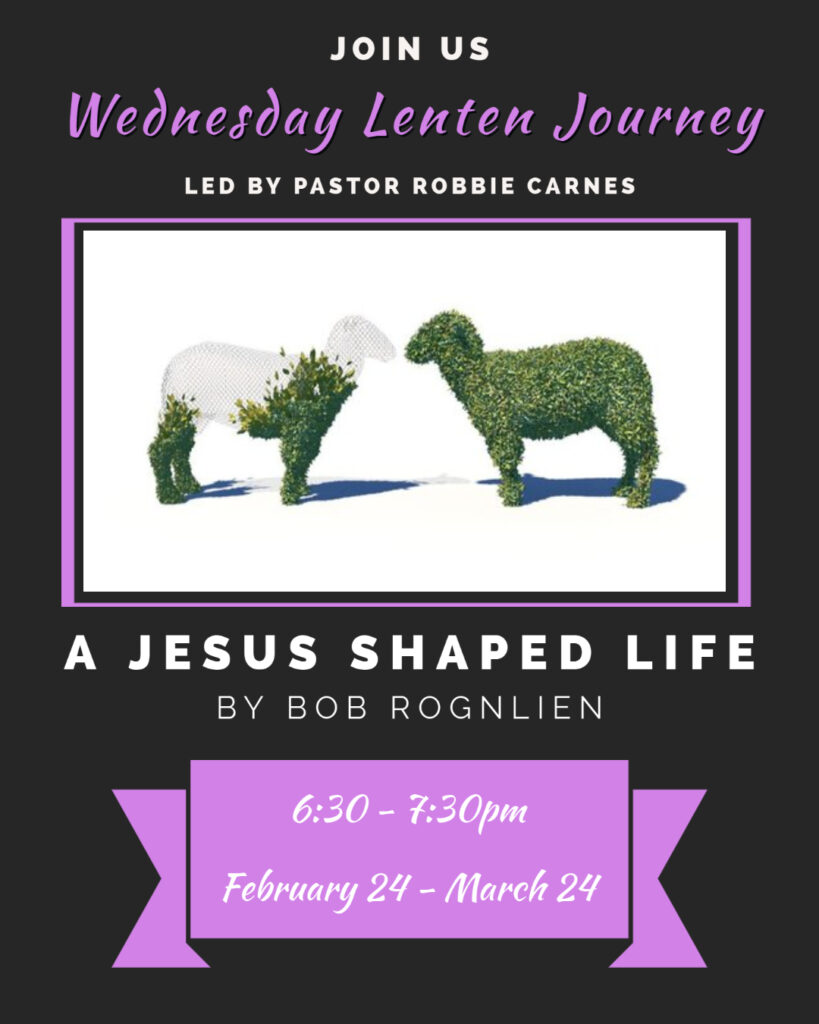 A Jesus Shaped Life by Bob Rognlien
Wednesday Lenten Journey on Discipleship through March 24th
6:30-7:30PM
While not necessary for participation, some books are available in the office for $13 each.
What kind of shape are you in? How about your marriage? Your family? Your job? Do you ever feel like you're missing something of the life you are meant to live?
Jesus came not only to show us the way we are meant to live, but to invite us to follow him into that life of ultimate meaning and purpose. This Lent, you are invited to consider with us your way of life in the light of the life Jesus lived. Come Join us on Zoom!
Join Zoom Meeting
https://us02web.zoom.us/j/88222598633?pwd=cnpMWWQ0ZnMxYmRRK1N3ckNZWVdUZz09
Meeting ID: 882 2259 8633
Passcode: 151415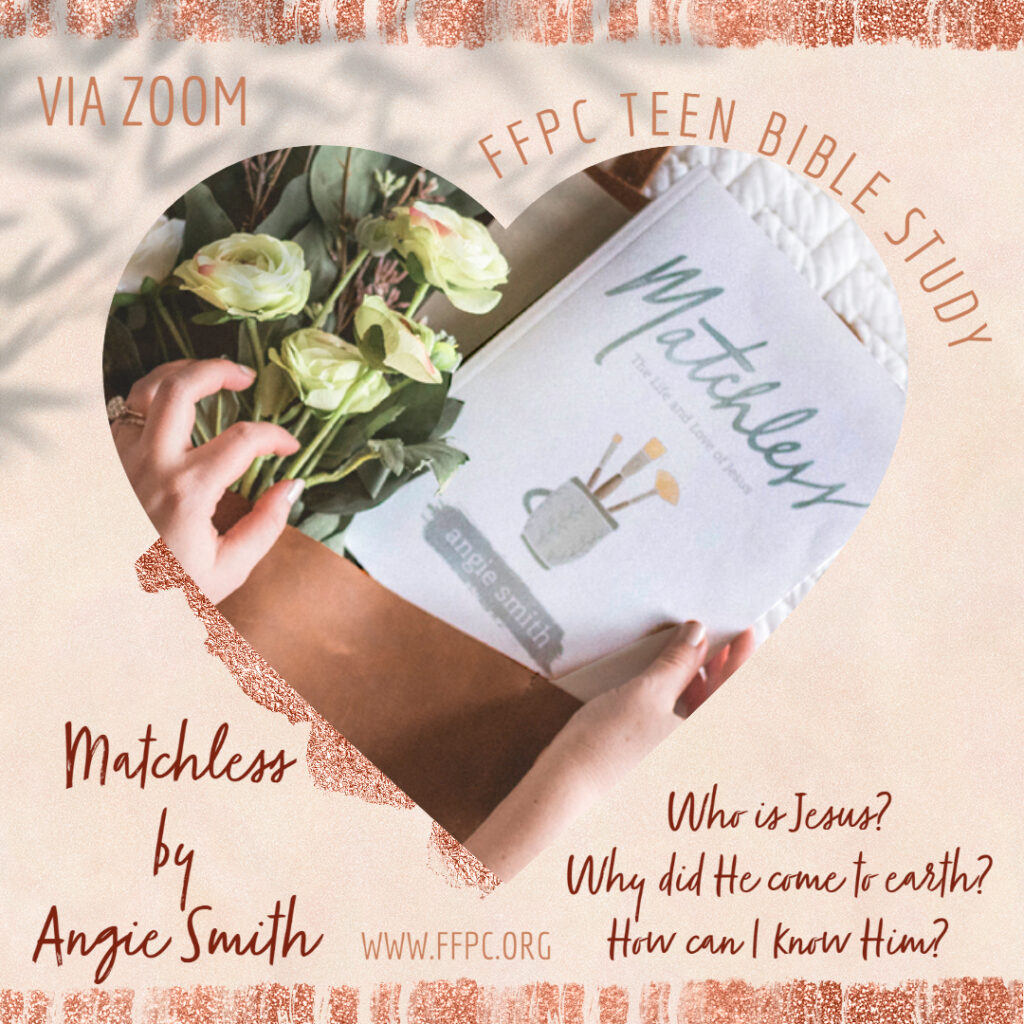 Teen Girls' Bible Study:
Led by Jenny Gibb and Kelsy Hoerauf, the girls are studying Matchless by Angie Smith. Participant books are $14. Meeting via zoom, contact Jenny Gibb at 248-765-0834 for more information.
 Who is Jesus? Why did He come to earth? How can I know Him?
We live in a world where there's a lot of confusion about Jesus. Too often people want to shape Him and His message to fit their personal needs or agendas. So how can we know the truth? This study will deepen your understanding of Jesus and help you see Him less as an iconic figure and more as an intimate friend.