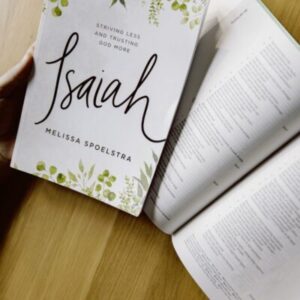 New Year Women's Study: Isaiah: Striving Less and Trusting More by Melissa Spoelstra
Isaiah communicated clearly that followers of God could trust in Him. In 7 weeks of group sessions, unpack Isaiah's words to reveal that you can trust God more than your own human effort or the counterfeits the world suggests. You won't be striving harder, but instead trusting more deeply in the Faithful One who is so worthy of our utter dependence. In Him you'll find the comfort and peace you need to sustain you.
Register in Fellowship Hall by December 9 or email Tina Ritchie [email protected].
   Monday Evening –  January 2 – February 13 from 6:30-8:30 Via ZOOM only
   OR
   Wednesday Morning –  January 4 – February 15 from 10AM – noon in Fellowship Hall
   Participant book is $22. Register in Fellowship Hall by December 9 or email Tina Ritchie