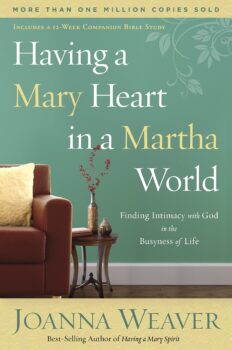 Monday & Wednesday Women's Study
Having a Mary Heart in a Martha World by Joanna Weaver.
Thoughtful and personal, practical and encouraging, this study looks at contrasting sisters of the Bible – Mary and Martha, the friends of Jesus – to gently show readers how they can deepen their devotion, strengthen their service, and experience less stress and greater joy. In this study Joanna reminds us that Jesus extends to us the same invitation he gave to these sisters of Bethany: Come to Me.
To reserve your spot, register by August 22.
Monday Evenings September 12 – November 28 from 6:30-8:30 Via ZOOM only
and
Wednesday Mornings September 7 – November 23 from 10AM – noon in Fellowship Hall
Zoom link: https://us02web.zoom.us/j/3159652381?pwd=WjZpVTVZWkV0WHRUbk1HNlZFWjJZQT09
Meeting ID: 315 965 2381
Passcode: 384661