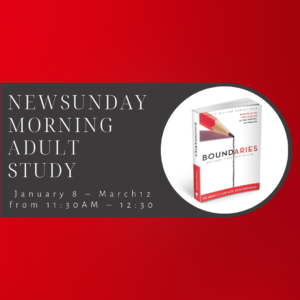 Sunday Morning NEW January Study (There are NO Sermon Discussions through December).
Join Pastor Robbie and Tina Ritchie for a 9 week study on Boundaries
January 8 – March 12 from 11:30AM – 12:30 PM in the Conference Room
Participant guide is $9 – register in Fellowship Hall by December 18
Childcare provided!
A boundary is a personal property line that marks those things for which we are responsible. In other words, boundaries define who we are and who we are not. Sounds simple, yes? Then why do we often find ourselves forgetting our own limits and limitations, setting ourselves up for more difficulties than expected?
Having healthy boundaries is essential to a healthy, balanced lifestyle. Join us to learn what are legitimate boundaries; how to set limits and be a loving person; what to do if someone is upset or hurt by one's boundaries; why one might feel guilty or afraid when considering setting boundaries, and much, much more!